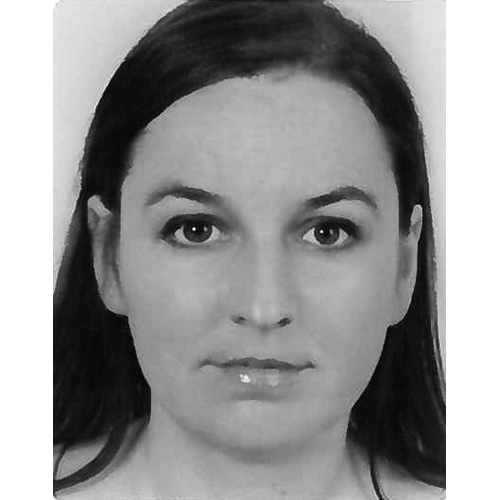 Alicja Habisiak-Matczak
Alicja Habisiak-Matczak was born in Piotrków Trybunalski, Poland in 1978. 
Between 1997 and 2002 she studied at the Department of Graphics and Painting
at the Strzemiński Academy of Fine Arts in Łódź. In 2002 she obtained her diploma
with distinction at the Intaglio Techniques Studio of Prof. Krzysztof Wawrzyniak.
Between 2003 and 2004 she got a grant from the Ministry of Culture and the Italian Government and she took up a postgraduate course in graphic art at the Academy of Fine Arts in Urbino, Italy. 
From 2002 till 2011 she was teacher's assistant at the Studio of Composition Rudiments I headed by Danuta Wieczorek (Ph.D.) at the Academy of Fine Arts in Łódź.  Since 2010 she holds the position of associate professor. Since 2011 she was an associate professor in the Studio of Intaglio Techniques headed by Professor Krzysztof Wawrzyniak at the same academy. In 2016 she became the Head of the Intaglio Techniques Studio. In the years 2004-2006 she was assistant during the Summer International Courses of Graphics KAUS in Urbino.  In 2009 she realized her doctorate entitled Perspectives – series of prints and drawings on urban space and by the resolution of the Council of the Department of Graphics and Painting obtained the title of doctor of arts. In 2015 she obtained a habilitation in the discipline of fine arts. In 2013 she initiated International Summer Courses of Artistic Printmaking at her home Academy, organized in cooperation with International Art Centre KAUS Urbino. The International Summer Courses Printmaking and Textile Art PATA she has coordinated in four editions now, have attracted to Łódź artists from all over the world.
She is the author of 18 personal exhibitions in Poland, Italy and the Netherlands. Participated in over 140 national and international exhibitions of print and drawing all over the world, among others in Sarcelles, Trois Rivieres, Cairo, New York, Ottawa, Rome, Acqui Terme, Varna, Douro, Kyoto and Tokyo.
Winner of 13 Polish and International print and drawing awards in Poland, Romania, Italy, Spain and Canada, four times awarded with Rector's Award for Academic Merit. In 2007 she was the finalist of the Grant Program under the auspices of the Minister of Culture and National Heritage 'Young Poland' for outstanding Polish artists of the young generation.  In 2013 within the programme "Polish culture abroad" of the Adam Mickiewicz Institute, she realized a series of three individual exhibitions in Italy – in Urbino, Rome and Fano with a common title "Il Furore del segno in Alicja Habisiak-Matczak".
She is the member of International Printmakers Association AMIGRAV with its headquarters in Montreal and also of the International Print Triennial Society in Cracow.
CHOSEN AWARDS AND DISTINCTIONS:
HONORARY MENTION at the XIII BIENNAL INTERNAL DE GRAVAT JOSEP DE RIBERA-2015, Casa de Cultura, Xativa, Spain, 2015; Honorary Mention at PREMIO FIBRENUS 2011 – XXV edizione, Carnello cArte ad Arte, Museo Civico della Media Valle del Liri, Sora , Italy; 1st Prize at the 11th edition of the International Small Engraving Salon Carbunari 2009, Museum Florean, Romania; Grand Prix at the VI International Print Competition "Premio Bertoni", Fermignano, Italy, 2006; Prize of Honour at Biennale Internazionale d'Estampe Contemporaine Trois Rivieres, Canada, 2005; Grand Prix at the First Printmaking Competition Carnello cArte ad Arte, Carnello, Italy 2004; Second Award at the Intaglio Print Competition Comune di Gorlago, Gorlago, Italy 2004.
LAST GROUP EXHIBITIONS-CHOICE FROM 2016
Flash Drawing Tour Urbino/Fano/San Leo 2016, Sala Salimbieni, Oratorio San Giovanni, Urbino, Italy; Esposizione d'arte contemporanea, Il tartufo tra mite e arte, Cantina maroncelli, Sant Angelo in Vado, Italy; 4th Graphic Art Biennial of Szeklerland, Transylvanian Art Center, Sfântu Gheorghe, Romania; New Prints 2016/ Summer IPCNY, International Print Center New York, USA; 3.11 miniature ART  2016, Gallery Kawanishi; 11-13.03.2016; Gallery-space KAUS, City, Ehime Prefecture, Japan; Excellent works of Guanlan International Print Exhibition, Luxun Academy of Fine Arts, Shenyang; III Bienal Internacional de Guarulhos do Pequeno Formato 2016, /Third BIG – Guarulhos International Biennial of Small Format Artworks, 2016, December 8th and 2017 February, 8th, Guarulhos, São Paulo, Brazil; Esposizione delle opere vincitrici del Premio di Incisione Carnello "cArte ad Arte" 2004 – 2015, Isola del Liri (FR), Borgo S.Domenico, Italy; I Luoghi del segno – Fogli incisi del Premio Carnello, Castello di San Michele, Cagliari, Italy.