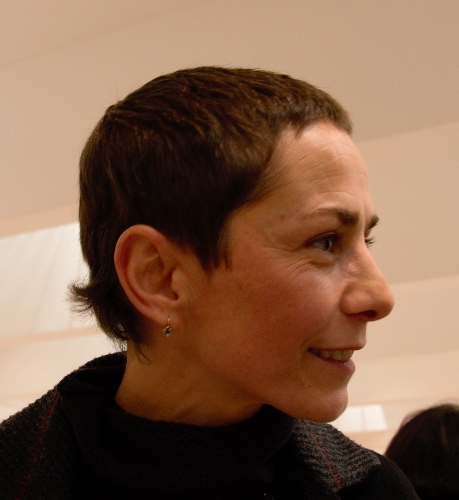 Cláudia Amandi
REGENT: Práticas interdisciplinares na Gravura: 6 ECTS
-
Cláudia Amandi was born in Porto, 1968. She is Assistant Professor of the Department of Drawing of FBAUP and Researcher at I2ADS. She develops research work in the area of drawing, actions and methods of work in the creative process, and in the intersections between sculpture and drawing. She has a PhD from FBAUP in 2010 with the thesis entitled "Functions and Tasks of Drawing in the Creative Process", a study on the role of drawing in the current artistic process, starting from the analysis of a set of actions carried out in its development and based in practical and theoretical testimonies of authors who use the drawing in their processes.
Over the years, her work of authorship has been converging to processes of repetition, being particularly interested in those who, in their mechanical appearance of execution, move the referent of the result. Actions such as agglomeration, variation, expansion, saturation and overlapping of brands and / or materials are building meshes, images, differentiated matters as multiplication systems of contents. Her most recent solo exhibition "Work in Progress - Drawing Life", was at Silo, Norte Shopping, Matosinhos, 2016.
There is a site where hers author's production is allocated: claudiaamandi.weebly.com
She has participated in projects, conferences and publications of which stand out:
April, 2016 - "Art and Science: Two universes?", SWEATBOX - Images for a Plural Drawing Strategy and (m) Research, Pav. South, FBAUP, I2ADS;
2012-2014, Coordination of the Atlas Project: Drawing and Engraving Office of FBAUP. This project was subsidized by the Education and Scholarship Service of the Calouste Gulbenkian Foundation under the Competition for the Recovery, Treatment and Organization of Documentary Collections.
2014, Amandi, Cláudia "Atlas Project: FBAUP Drawing & Engraving Office". In Amandi, C .; Machado, G .; Maia, P. (eds.) (2014). To See, To Do, To Think, To Edit: Atlas Project: FBAUP Prints and Drawing room. Porto: FBAUP. ISBN: 978-989-746-035-7.