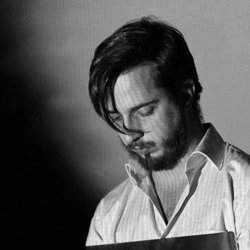 Diogo Tudela
Diogo Tudela (Porto, 1987) is an artist and independent researcher 
whose practice engages science-fiction, speculative computation,
mechatronics and simulation. His recent work responds to oblique 
cosmogonies and the  dialogue between technology and western
 theology — Solar Paramétrica (CAAA, 2017), Equinócio Perene 
(Mupi Gallery, 2017).
As part of the SOOPA collective, Diogo has been developing work within 
the interceptions of dramaturgy and computation in collaboration with 
composer Jonathan Uliel Saldanha — Oxidation Machine (Palais de Tokyo, 
2017), O Poço (Rivoli, 2017) — and choreographer Catarina Miranda — 
Boca Muralha (TNSJ, 2017).
In 2015 he was shortlisted for the Novo Banco Award by Serralves Museum 
of Contemporary Art (Porto) for his "The Machine is the Garden project", and
was a semifinalist on the Margaret Guthman Musical Instrument Competition
held by the Georgia Institute of Technology (USA). In the same year his short 
film Three Parrots from Guadeloupe was included in the BAFTA Qualifying 
Aesthetica Short Film Festival official selection.
In 2017 he was awarded with grant by the Calouste Gulbenkian Foundation 
for the production of Solar Paramétrica, and also with a grant by DGArtes 
for the production of an on-line narrative in synthetic environments.
Diogo Tudela holds a BA on Sound and Image, and an MA on Digital Art by 
the Catholic University of Porto, where he lectured between 2012 and 2014. 
Currently, he teaches Sound Art, Creative Coding and Web Environments 
at ISMAI.