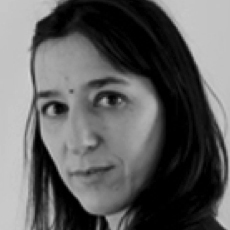 Noémia Gomes
Práticas interdisciplinares na Gravura: 6 ECTS
Academic background: PhD in Drawing from the Faculty of Fine Arts of the University of Barcelona, with a thesis entitled: "Drawing – Interactions and extensions, project and artistic work. Case study William Kentridge", December 2011. The thesis received an award as the most outstanding PhD thesis from the University of Barcelona, 2013. Master´s in Theatre design at the Slade School of Fine Arts, UCL 1998. Degree in Fine Arts and Painting in the Fine Arts Faculty of the University of Porto, 1993. Secondary School certificate from the Soares dos Reis School, 1987.
Teaching Experience: Assistant professor at the Faculty of Architecture in the University of Porto for the curricular Units of Drawing 1 and 2. Was responsible of the Curricular Unit of Drawing 2 between September and April of the academic year 2014–2015. Lectured in the Escola Superior Artística do Porto 1998-2001 and in Escola das Artes in Catholic University, 1999-2000.
Scientific Research: Research in the Centro de Estudos de Arquitectura e Urbanismo in the group Architecture, Theory, Project, History – ATPH since, 2012. Coordinator of the research project " The Collection of Drawings . Architecture School of Porto", which integrates satellite activities: Aulas de Autor, Experiência do Desenho – Open House Porto, Dois Dias e Meio and AsSALTO.
Publications: Publication of a book based on the PhD (at press). Chapter in the international book Art and Technology, December 2016, among others.
Mobility lectures: Developed peripatetic lecturer under the auspices of the Erasmus Dream Mundus program in the Department of Architecture in the Instituto Superior Politécnico da Universidade Eduardo dos Santos, Angola, September 2016.